From 10th - 19th October 2008, artists from various disciplines from the five partner-organizations will come to Graz to participate in an "artists in residence" project, to work with the topic "heimat".
H.E.I.M.A.T. takes place in the panorama of the project
As Tide Network, partnership program of Cittadellarte – Fondazione Pistoletto, DeBuren, Hangar, next – fine arts club, St. James Cavalier, in collaboration with Love Difference with the support of the Culture Program of the European Union.
"Home is the place, where I'm understood without language. Home are the people, whom I don't have to explain who I am. I don't have to offer any explanation to justify my existence. Home is to be able to listen and see, aimless and undisturbed. Home is the feeling of a big silence and stillness, which allows me to be myself." - Lore Heuermann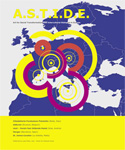 Download the Catalogue for all results of the participating artists as well as for documentations of the projects of the partner institutions.
Download the PDF