Posts Tagged 'Josip Zanki'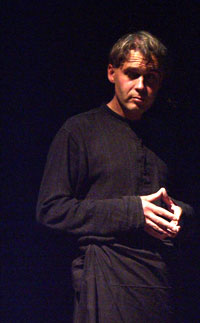 Josip Zanki was born in Zadar on 14th March 1969. He grew up in the village of Privlaka, north west of Zadar, in a family of fishermen and farmers. He graduated from the Academy of Fine Arts in Zagreb in 1994 (class of Professor Miroslav Sutej) with a thesis entitled "Mysticism in the Artistic Practice of J. Beuys" and an experimental series of etchings "New Machines", a remake of the research conducted by the renaissance scientist Faust Vrancic. Since 1986 he has been working on installations, performances, experimental film and video and in the research into graphic media. He received numerous prizes for his work. His involvement in archaeology has resulted in a collection of 200 prehistoric and mediaeval objects relating to mystical and occult religious practices. He is also interested in the phenomena of the Velebit mountain range; Mirila, valleys, enchanted forests and the existence and the influence of elemental beings on the myth and the reality of this region..
He has realised numerous individual and collective exhibitions with other artists in Croatia and abroad. Since decembar 2007 he is president of Croatian aassociation of artist He works in Zagreb.
Major group exhibition:
Continue…