Posts Tagged 'Elisa Marchesini'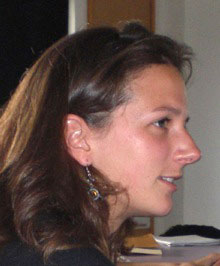 Elisa Marchesini (1983) was born in The Hague, the Netherlands and has a Dutch/Italian nationality. In 2006 she graduated with honours from the Gerrit Rietveld Academy. She lives and works in Amsterdam.
Marchesini is a fashion designer working the other way around.
Replace the word fashion
by clothes-, by body-, by behaviour-.
Replace designer
by explorer.
She creates new modes of grasping human information. By tracing the patterns of clothes, she is tracing social behaviour. Reconstructing and designing new possibilities within garments. Marchesini is mapping and approaching occurrences strongly connected by time & place.
Her design and autonomous art coincides with that of a modern-day anthropologist.
Elisa Marchesini presents her work simultaneously in art and fashion related environments such as: the New York Milk Gallery, the Amsterdam based Metis_NL gallery, Stedelijk Modern Art Museum Amsterdam, the Amsterdam International Fashion Week (edition: Jan 2007 / July 2007 / Jan 2008 / July 2008) and the Arnhem Fashion Biennial 2007.
Underlining the idea that fashion is becoming art and art is modish. A gallery exhibits and sells clothes, museums present garments by designers as fine art, and some clothes shops more closely resemble a gallery.