Sara Falconi – Biography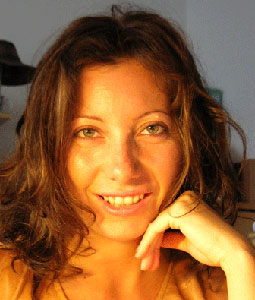 With a background in cultural management and communication, Sara Falconi has been involved in project planning, events management, fund raising, and cultural marketing activities. In the past years she has been responsible for a territorial project which has been planned and
worked out in collaboration with Sistema Museo, an influential company which manages cultural and tourist systems, heritage and museums networks in Italy.She collaborated with Saint James Cavalier Centre for Creativity in Malta, as a researcher in a cultural marketing assessment. More recently she took part in the Valletta Alive Foundation activities with the goal of planning cultural regeneration strategies and cultural enhancement of Malta's Capital City.
In the last two years she set up Atelier culture.projects with Ms Natasha Borg.
Atelier is a consultancy agency based in Malta with the mission of'generating development and innovation through culture and the arts'. Atelier has managed a number of EU and internationally funded projects and has offered its services to a number of clients and partners both in Malta and at a European level.
Cultural Management and Communication
Art events and cultural project management expertise.
Cultural marketing, communication strategies and fund raising.
An understanding of management and programme actions as related to arts/cultural organisations
and projects: EU funds and programmes, sponsorships, partnerships.
Resources and logistics management.
High computer literacy skills.
Professional experience
•
Since 2007
Atelier – culture projects (www.atelierculture.com)
Malta
Cultural Project management and communication. Consultancy agency.
Founder / Director
Friends Of The Earth – FOE
Malta
Coordinator of the Working Group: memberships and fund raising
•
2006
Landscapes On The Move
Malta and Italy
Documentary and Video Productions – Visual Anthropology
Arts and Cultural Contents – Communication
Author, Researcher – Producer
•
2006
Valletta Alive Foundation
Malta Chamber of Commerce and Enterprise
Exchange Buildings – Republic Street – Valletta, Malta
Member of the Projects and Initiatives Working Group
•
2004
Saint James Cavalier Centre for Creativity.
Pope Pius XXIII street, Valletta – Malta.
Comprehensive situation analysis, cultural marketing research and strategic plan
formulation.
•
2003-2004
Provincia di Ascoli Piceno
Via Kennedy, 34/36 – Ascoli Piceno – Italy
Development and realization of a cultural tourist project with the partner company
"Sistema Museo".
•
2002-2004
Sistema Museo soc. coop. a r. l.
Via della Prome, 5 – Perugia – Italy
Operative management of the cultural itineraries and tourist routes for the city of
Acquaviva Picena, Project "Piceno da Scoprire".
•
2002
Consorzio Riviera delle Palme
Viale delle Tamerici, 5 – San Benedetto del Tronto – AP – Italy .
Exhibition guide service and educational activities within the exhibition: "Egitto terra
del Nilo" realized by the Chair of Egyptology, University of Rome "La Sapienza".
Other work experience
•
2004-2005
Piramidea srl –Via Montello n°2 – 63039 San Benedetto del Tronto, AP
Italy – Project management and building company.
P.A. and secretary service, preparation of contracts, budgets and
estimates, solution of logistic and supply problems.
•
2004
Parco Piceno Soc. Consortile a r.l.C.so Mazzini 224 – Ascoli Piceno – Italy
Customer service and logistics within the international fair "Vakanz 2004", tourism
trade show, Luxembourg.
•
2003-2004
Comune di Grottammare (City Council)
Via Matteotti, 69 – Grottammare – AP – Italy
Cultural mediation and linguistic support to foreign school children.
Education and Qualifications
•
2005 (February) European M.A. in Conservation and Management of Cultural Heritage
University of Cassino – Italy.
European University League (Cassino, Siena, Venezia, Caen,
Salamanca)
•
2000 (November) Laurea (B.A.) Foreign Languages and Literature
University of Chieti-Pescara – Italy
•
Languages:
English (excellent reading and writing skills/ very good verbal skills)
French (excellent reading and writing skills/ good verbal skills)
German (basic skills)
Native Language:
Italian
Training and life long learning
•
2008 EU Funding training course – FTZ Malta
Funding opportunities, databases, networking.
•
2007 Structural Funds Training and Technical Assistance Programme for NGOs and Civil
Society Organisations – Malta
Intensive training to plan, access and manage and/or be partners in EU structural funds projects.
•
2006 (June) Strategics Film Marketing Workshop – Luxembourg
Training programme for film professionals covering all the different stages linked to film marketing
•
2001-2002 Roma Tre University, Rome Six-month course in: General Psychology; Teaching and
Learning Technologies; History of Pedagogy; General Pedagogy.
•
1998 lal Cisl Marche PC network operator course (PC, networking, web graphics).
Skills
Microsoft Windows XP, Explorer, Office (Word, Excel, Powerpoint, Access, Works), Outlook;
Filemaker, Photoshop, Dreamweaver, Frontpage.
Good aptitude to travel, high adaptability, flexibility.
Research skill (bibliographic, web and field research).
Ability to negotiate and create networks.